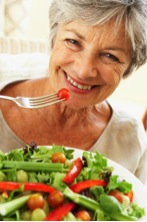 Home care Fort Lauderdale cargivers, Responsive Home Care, have a goal to help ensure that you or your loved one have the best quality of life possible as you age. Aging brings about many changes, one of which can be a rise in cholesterol. Part of your own at home health care efforts can focus on lowering your cholesterol through simple lifestyle changes. Even if you are taking medication for high cholesterol, you can boost the effectiveness of that medication by making these five changes.
LOSE WEIGHT
Even a modest weight loss — as little as five or 10 pounds- can have a major impact on your cholesterol. Monitor what triggers unnecessary eating in your life and try to plan ahead with healthier snack options. Additionally, weight loss can also help prevent diabetes and help prevent joint replacement surgeries.
EAT HEART-HEALTHY FOODS
You know you should eat more fruits and vegetables, but when it comes to lowering your cholesterol it is also important to eat the right kinds of fats. Eliminating trans-fat is important! Taking fried foods off your plate is a real start. When shopping read the ingredient list. If you can't spell the ingredients in the product don't eat it! Margarine is high in trans-fat so try whipped butter instead it is lower in trans-fat. Read more about Butter or Margarine.
GET ACTIVE
Incorporating some form of activity every day can do wonders not only for your overall quality of life, but for your cholesterol as well. Even if you only do 10-minute intervals several days a time, you will be giving your overall health a big boost. Check with your doctor first to see what activities will be right for you.
STOP SMOKING
If you smoke-stop. Not only can quitting lower your cholesterol, your blood pressure will decrease and as will your risk of heart failure.
DRINK LESS ALCOHOL
While some studies have shown alcohol has a positive effect on HDL levels it isn't enough to warrant the other risks that come from too much drink — high blood pressure, heart failure or stroke. Women should limit themselves to one drink a day; men should have no more than two.
https://www.responsive-homecare.com/wp-content/uploads/2015/09/responsive_healthy-heart.jpg
222
147
Debbie Savage, RN, BSN, President
https://www.responsive-homecare.com/wp-content/uploads/2019/11/unnamed-1.png
Debbie Savage, RN, BSN, President
2014-01-30 04:51:37
2014-01-30 04:51:37
MAKE LITTLE CHANGES IN LIFESTYLE FOR LOWER CHOLESTEROL AND A HEALTHY HEART