Broward Home Care – There When You Need Us!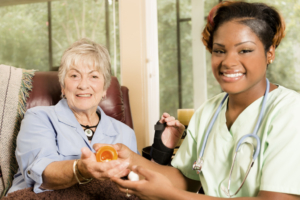 Living at a distance from an older family member or loved one poses some unique challenges when the need for care arises. How can we make sure Mom is taking her medication on time? I wish there was someone to check in on Uncle Bob.
If you're concerned about a loved one in Fort Lauderdale or anywhere in the Broward County area, Responsive Home Care is a leading elder care provider that can help. We provide a check-in service for out-of-town families, to ensure their loved ones are safe, happy, and healthy at home. During our visits we can:
Assist with personal care services – bathing, grooming, and dressing
Provide medication support
Assess the person's general health and mood
Provide companionship, such as conversation, reading, playing games, etc.
Perform light housekeeping duties – making beds, taking out garbage, etc.
Communicate with the family to inform them of the person's status
Email and picture updates
Escort to medical appointments
Provide shopping and errand running as needed
Quality Home Care Fort Lauderdale Seniors Need
We can also provide other services as needed. If you live at a distance from a loved one and would like to have a trusted, professional caregiver check in on him or her on a regular basis, contact Responsive Home Care of Fort Lauderdale, Florida to learn more about our home health care services.
For the convenience of our out-of-town families and inquiries we have a toll-free number available, (888) 544-6440.
Save
Save