Home Health Care Services for Chronic Disease Care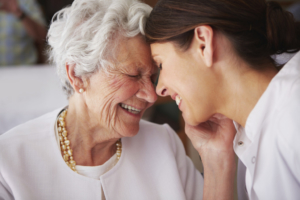 For seniors living with a chronic disease, the activities of daily life can be an ongoing challenge. At Responsive Home Care, we partner with seniors and their families to create an individualized plan of care to maximize wellbeing, safety and quality of life. Our fully trained and experienced caregiving team includes professional nurses (both RNs and LPNs), home health aides, certified nursing assistants and sleep-over caregivers/companions working together to meet each person's unique needs.
We provide in-home care for any adult with a chronic illness, including:
COPD and other lung diseases
Hypertension
Kidney disease
Your Fort Lauderdale Home Health Care Solution
At Responsive Home Care, our goal is to prevent unnecessary hospital admissions. We provide:
RN Supervision: All services for chronic disease care begin with an RN assessment and creation of an individualized care plan
Medication support: Our caregivers provide medication reminders to ensure medications are taken as prescribed, refills are picked up, and that any adverse reactions are reported immediately to the nurse and physician
Disease management education: Preparation and education are key to preventing hospital re-admissions. We provide disease-specific resources to the caregivers, our clients and their families to allow for a better understanding and monitoring of the disease
Dietary planning and preparation: Our caregivers prepare meals that are specific to each senior's personal preferences and dietary restrictions
Recognition of key health indicators: Responsive Home Care's caregivers are trained to quickly recognize and report key health symptoms that could indicate an issue, which often prevents a hospital readmission
Smooth transitions: Our post-discharge care planning team helps to provide seamless transitions from one care setting to another
In addition to helping manage issues related to chronic diseases, our in-home care team brings a renewed sense of joy and self-worth into seniors' homes through our friendly companionship, conversation and encouragement, assistance and motivation with physician-approved exercise, mind-stimulating games, reading, arts and crafts, and music, and so much more.
Responsive Home Care serves all of Broward County, Fort Lauderdale and all thirty one cities within Broward. We're here for you 365 days a year, 24 hours a day, every step of the way through the journey. Call us any time for additional information or to schedule a free in-home consultation at 954-486-6440, or complete our brief online contact form.