Exercise Can Improve Heart Health and Safety for Seniors at Home
Home Health Care Lauderhill FL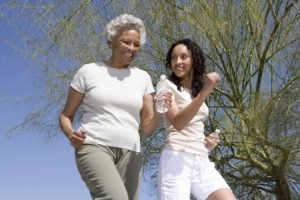 Exercise is one of the most important things anyone can do for their health, energy levels, and safety. When you're talking about seniors living at home, it may not seem as important as it once did, but it's actually one of the most important things people can do, regardless of their age.
In fact, even seniors who have had heart attacks are often encouraged by their doctor to get exercise daily. Of course, it's absolutely crucial that an elderly person consult his or her primary care physician to make sure exercise is warranted and safe.
There are numerous reasons why exercise is so beneficial and there are plenty of ways to get adequate exercise for people of all ages. When seniors exercise regularly, it can help improve their strength and agility, balance, and ultimately their safety.
It only takes 15 minutes per day.
A lot of people in the United States and around the world have a tendency to assume if they don't get at least an hour's worth of exercise in every day, it's not really going to make a difference. In truth, 15 minutes of cardiovascular exercise every day is enough to help strengthen the heart and keep the body in relatively good physical condition.
Of course, a senior who is only able to do 15 minutes of light exercise is not going to be maintaining their muscle mass each passing year.
There are many activities to enjoy.
Exercising can be done by simply increasing the pace of walking, doing water aerobics, taking part in yoga that is specifically designed for seniors, and much, much more. If a senior enjoys certain activities that get them moving, they should be encouraged to do them.
Sometimes, though, they may need physical support. This is where a home health care aide can be beneficial to keep them safe while taking part in these activities.
It helps to strengthen legs.
While a person in their 70s or 80s is not likely to add muscle mass through any amount of exercise, it can help prevent muscle loss from continuing, or at least slow it down tremendously. This can help them maintain better balance and keep them safe or within the comfort of their home.
Far too many family members see exercise as being a hazard rather than a benefit. They may discourage exercise and activities for their aging parents or other loved ones, but the best thing to do is encourage the hiring of a home health care aide who can assist the senior in these exercises and activities and keep them safer within the comfort of their home.
If you or an aging loved one are considering Home Health Care Services in Lauderhill FL to provide companionship, compassion and motivation, please contact the caring staff at Responsive Home Care. Call today 954-486-6440.
https://www.responsive-homecare.com/wp-content/uploads/2017/02/bigstock-Happy-African-American-mother-41894989.jpg
200
300
Debbie Savage, RN, BSN, President
https://www.responsive-homecare.com/wp-content/uploads/2021/06/responsive-logo.png
Debbie Savage, RN, BSN, President
2017-02-28 15:55:59
2019-03-20 09:57:06
Exercise Can Improve Heart Health and Safety for Seniors at Home