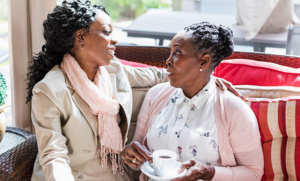 It may have been suspected, or maybe broadsided you out of nowhere. Mom has just received the official diagnosis for a progressive disease that's going to make independent life a challenge. While there are lots of unknowns, one thing is for sure: she is insistent about remaining at home – meaning you may need to learn how to be a supportive family caregiver.
If you are feeling a bit stressed with what to anticipate next, these guidelines can certainly help.
Learn as much as you can in regards to the disease. The senior's physician can provide you with resources and educational materials that will help you know what to anticipate and also to gain confidence in your caregiving role.
Get organized. Create a binder in which to store important paperwork: prescription details, test results, contact information for physicians' offices and the pharmacy, and any other important medical information. Start a journal to help keep track of any changes in condition or concerns that arise, along with the details surrounding those changes.
Set aside past hurts. A new diagnosis could cause old family dynamics to resurface. If unsettled issues are interfering with your ability to provide the best care, seek the support of a professional counselor to effectively work through them.
Establish boundaries together. Speak with the senior about how much and what sort of help could be beneficial. It is normal to want to step in and take over, but it's vital for the individual to maintain as much independence and control as possible.
Take proper care of yourself, too. Your own personal health and wellness are equally important. And, the level of care you provide can be compromised if your own needs are not being met. Prioritize and designate time each day for self-care by seeking out and accepting assistance from others.
It's important to know about the chance for depression and caregiver burnout, and to take the appropriate steps immediately in the event that you start to experience red flags such as:
Increased anxiety, agitation, and irritability
Retreating from social interactions
Lack of interest in once-enjoyed hobbies
Resentment
Loss of appetite
Issues with falling or staying asleep
Difficulty with concentration and focus
Exhaustion
Locating a dependable care partner provides time for you to see a physician for a checkup to rule out other potential health problems, to speak with a therapist to effectively work through the many emotions involved with caregiving, and to relax and recharge.
The Weston home health care team at Responsive Home Care is here with further resources for family caregivers, as well as skilled, dependable respite care services that enable a healthier life balance. Reach out to us for a complimentary in-home consultation to find out more about our services and list of communities served.
https://www.responsive-homecare.com/wp-content/uploads/2021/11/family-caregiver-talking-with-senior-woman.jpg
483
800
Debbie Savage, RN, BSN, President
https://www.responsive-homecare.com/wp-content/uploads/2021/06/responsive-logo.png
Debbie Savage, RN, BSN, President
2021-11-03 05:36:40
2021-11-03 02:47:13
How to Be a Supportive Family Caregiver for Someone with a New Diagnosis