Checking for Health and Safety in Your Parent's Bathroom This Holiday Season
Home Care Services Pompano Beach FL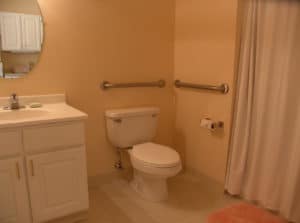 If you are like many family caregivers, one of the elements of the holiday season that you look forward to the most is getting to spend quality time with your senior. This is particularly true if you are a distance caregiver who does not have the opportunity to spend as much time with your loved one as you would like. Your holiday season visits are a chance for you to reconnect with your senior and spend more time with them, as well as check in on them and ensure that they are still doing well as they age in place.
Take some time during your visit to check areas of their home to identify any risks or indications that they might be struggling with challenges and issues. One area of the home that is particularly important to check is your parent's bathroom. Simply by its nature, this room tends to be more dangerous than others and can be a strong indication of how your parent is doing.
Some things you should check for in your parent's bathroom to gauge their health and safety include:
• Loose towel rod. Take a look at your parent's wall-mounted towel rod and give it a wiggle. If the towels look disheveled and it feels loose, it could be an indication that your elderly parent has been using it for physical support when navigating the room. This is not only a sign of potential challenges, but also a danger. Towel rods are not designed to withstand such weight, and it could simply collapse, causing your loved one to suffer a serious fall.
• Soap scum buildup in the shower. If your parent has always been neat and clean and you notice that their shower is not clean, it could be an indication of serious issues. They could be suffering from cognitive functioning decline that prevents them from cleaning up the home, or mental health issues that minimize their motivation. They could also be suffering from physical limitations that prevent them from being able to handle the actual task of cleaning.
• Issues with brushing their teeth. Visit your aging parent while they are brushing their teeth and pay attention to how they are doing it and their response. If they are brushing gingerly, avoiding flossing, or you notice even a little bit of blood in the sink, it could be an indication of dental health problems that could put the well-being of their entire body at serious risk.
If you have noticed that your aging parent is dealing with challenges, limitations, and other issues that threaten their safety and well-being as they age in place, now may be the ideal time for you to consider starting home care services for them. An in-home senior care services provider can be with your parent on a customized schedule tailored for their individual needs, challenges, and limitations, but also for their personality, lifestyle, and goals. This means that they can enjoy a more active, engaged, and fulfilling quality of life while also staying safe and healthy. As their family caregiver, knowing that there is a home care provider with your parent can give you confidence that they are always getting the care, assistance, and support that they need whether you are able to be with them regularly or if you live at a distance and are not able to visit with them frequently.
When it comes to helping your aging loved one stay safe and healthy in the bathroom, this care provider can evaluate your loved one's needs, provide physical support and assistance, and help guide them in keeping the room clean and neat to reduce risk.
If you or an aging loved one are considering Home Care Services in Pompano Beach FL to provide companionship, compassion and motivation, please contact the caring staff at Responsive Home Care. Call today 954-486-6440.
https://www.responsive-homecare.com/wp-content/uploads/2016/12/bigstock-Bathroom-With-Grab-Bars-621705.jpg
223
300
Debbie Savage, RN, BSN, President
https://www.responsive-homecare.com/wp-content/uploads/2021/06/responsive-logo.png
Debbie Savage, RN, BSN, President
2016-12-13 12:03:49
2019-03-20 10:09:58
Checking for Health and Safety in Your Parent's Bathroom This Holiday Season