Two Ways Using Virtual Reality Helps Dementia Patients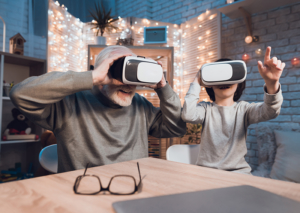 Picture for a second how it could feel to struggle with the cognitive obstacles of Alzheimer's disease. The people who are closest to you are no longer familiar. The words that would roll off your tongue without a second thought are now just beyond your grasp. In fact, the whole world as you once knew it has turned completely upside down, leaving you yearning for a recognizable foothold.
One of the kindnesses imparted by dementia is the long-term memories that oftentimes remain intact long after short-term memories have disappeared. It is why connecting a senior with Alzheimer's to the past is usually an incredibly effective way to engage them – through music, movies, photos, and reminiscing. We can also now add a high-tech tool to the mix that is demonstrating impressive results with seniors diagnosed with Alzheimer's disease; virtual reality.
Skip Rizzo, director for medical virtual reality at the USC Institute for Creative Technologies, has been using the technology to help veterans dealing with post-traumatic stress disorder. He's now expanding his reach to seniors – beginning with his own 89-year-old mother, whose delightful reaction to a virtual trip to Rome confirmed exactly how effective the technology can be for older adults.
Rizzo shares an encounter in which he visited a nursing home where a group of residents were simply sitting around a table in silence, until he began showing them flashcard-like pictures of objects they might recognize from their past. The change in the atmosphere was electric, as the seniors began sharing memories with each other. With the potential of low-tech tools such as simple photos to create delight for seniors, just imagine the opportunities available to us now with high-tech options like virtual reality!
The advantage of virtual reality for older adults goes further than merely boosting memory and bringing enjoyment, such as:
Improved Health Care
The distraction of virtual reality is showing to be an effective tool for easing physical pain for seniors. It can also be used to enhance balance and other motor skills as well as improve spatial reasoning. It can even help doctors detect health conditions by monitoring how older adults respond in various activities and games.
Increased Socialization
We know that older adult isolation is a contributing aspect in a number of physical and mental health problems. A recent study by the National Academies of Sciences, Engineering and Medicine presented that up to one in four older adults feel socially isolated. To tackle this concern, AARP Innovation Labs developed an app called Alcove, in which older adults and their friends and family can enjoy virtual reality experiences together.
Would you like to learn more creative options to improve quality of life for an older adult you love? Connect with our team at Responsive Home Care, for home care in Hollywood, FL and throughout the greater area at 954-486-6440!
https://www.responsive-homecare.com/wp-content/uploads/2021/11/vr-glasses-senior-with-grandson.jpg
569
800
Debbie Savage, RN, BSN, President
https://www.responsive-homecare.com/wp-content/uploads/2021/06/responsive-logo.png
Debbie Savage, RN, BSN, President
2021-12-17 04:26:55
2021-11-30 22:06:04
Two Ways Using Virtual Reality Helps Dementia Patients