Making Care Decisions Early in Your Parent's Experience with Parkinson's Disease
Home Care Coral Springs FL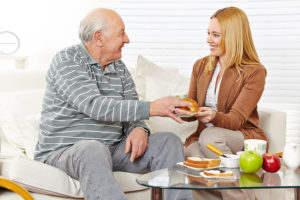 When you find out that your elderly parent is suffering from Parkinson's disease you are put at the beginning of a journey that will present a wide variety of challenges and demands for your aging parent and for you as their family caregiver.
This is a progressive disease, which means that the symptoms that your senior loved one faces will change, increase, and intensify over time. Though your parent's medical team can give you an idea as to how your parent's condition will progress and what you might expect moving forward, there is no real way of knowing everything that they will face or the true path that their disease will take. This makes it essential that you do as much as you can to prepare for the journey early so that both of you are prepared for what will come.
Making care decisions early in your parent's experience is about taking advantage of their awareness and cognitive functioning at the beginning of the disease and using it to ensure that they make the plans and preparations that are right for them.
It is important to be aware that changes in cognitive functioning, memory loss, and even dementia are potential symptoms of Parkinson's disease. This means that they are able to evaluate the progression of the disease ahead of them, express their thoughts, beliefs, and wishes, and make plans that will give them confidence that they will get the care that they need and give you peace of mind that you will be able to make the decisions that are right for your loved one when the time comes.
There are many issues that you will need to consider when making care decisions at the beginning of your parent's experience with Parkinson's disease. Some of these include:
• Their feelings regarding artificial resuscitation
• Their feelings regarding life support
• Their feelings regarding hospice care
• Their thoughts on additional care options, such as hiring an elderly home care provider to be with your aging parent to fulfill their needs and help them manage their symptoms
• Their wishes regarding aging in place or transitioning into living in the home with you and the rest of your family
• Legal considerations, such as power of attorney, health directives, wills, and other arrangements to ensure that they get the care they need and that their estate is managed properly
• Their perspectives on their final arrangements and how they want them to be carried out when the end of their life comes
It can be extremely challenging and emotionally difficult thinking of these issues and discussing them with your parent, but it is vital that you confront them and handle these conversations courageously, honestly, and thoroughly. Consider sitting down with their doctor as well as a therapist if your parent is having difficulty coming to terms with these issues or does not feel that they have enough information to make the decisions that are truly right for them. This can give both of you more confidence and help you to feel more prepared as you continue on in this new chapter.
If you or an aging loved one are considering Home Care Services in Coral Springs FL to provide companionship, compassion and motivation, please contact the caring staff at Responsive Home Care. Call today 954-486-6440.
https://www.responsive-homecare.com/wp-content/uploads/2017/01/bigstock-Family-with-senior-citizen-eat-56442674.jpg
200
300
Debbie Savage, RN, BSN, President
https://www.responsive-homecare.com/wp-content/uploads/2021/06/responsive-logo.png
Debbie Savage, RN, BSN, President
2017-01-17 16:17:26
2019-03-20 10:05:06
Making Care Decisions Early in Your Parent's Experience with Parkinson's Disease