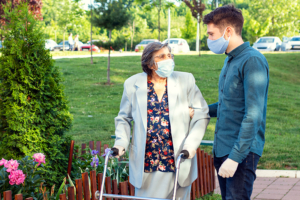 After months of isolating from family and friends, many people are now getting out and about instead of staying at home. Nevertheless, for seniors in particular, is it safe to think about going out at this time?
Unfortunately, there's no cut-and-dry answer to keep senior loved ones safe, and a range of criteria need to be taken into consideration to arrive at the best possible decision for every single person. For instance:
What health problems is the senior encountering?
How challenging has it been for him or her to be separated from family and friends?
Is the incidence rate of the virus subsiding or spiking within your town?
As a family caregiver, the best place to get started is sitting down and having a one-on-one discussion with the older adult. If for example, your senior loved one is adamantly and fervently set on a certain activity, such as seeing the grandchildren or going on a walk at the community park, be sure he or she thoroughly understands the potential risks involved.
Make sure you are up to date as well on the most current news from trusted sources on any new recommendations and/or precautions. Consider this information as only one component of your decision-making process, however, as opposed to an end-all perspective.
Then, broach the subject with the older adult's medical practitioner for an expert opinion as well as for assistance with weighing potential risk factors against the benefits of increased socialization and engagement in the community. You might also wish to talk to other family members and carefully consider their input as well before making the final choice on how best to proceed.
Most of all, take plenty of time to ensure you are doing what's most suitable for your loved one's overall health and wellbeing, rather than making a snap decision that you might later regret. If you're still uncertain about what to do, it could be wise to try to avoid venturing out with the senior for the present time and revisit the matter at a later date. And remember that you always have the option to change your thinking if for any reason you are uncomfortable with the first decision.
Whether you and your loved one are comfortable with the choice to go out and about, or decide to continue staying at home, you can rely on Responsive Home Care to help out with companionship, grocery shopping, meal preparation and a variety of other types of assistance, always in compliance with recommended safety protocols. Give us a call at 954-486-6440 any time to talk to one of our live in caregivers in Hollywood, FL or the surrounding areas, or to schedule a no cost in-home consultation.
https://www.responsive-homecare.com/wp-content/uploads/2020/08/senior-woman-with-male-caregiver-outside.jpg
533
800
Debbie Savage, RN, BSN, President
https://www.responsive-homecare.com/wp-content/uploads/2019/11/unnamed-1.png
Debbie Savage, RN, BSN, President
2020-08-06 10:31:16
2021-01-28 19:41:50
How Do You Keep Senior Loved Ones Safe During the Pandemic and Still Get Out?