Home Care Services Hollywood FL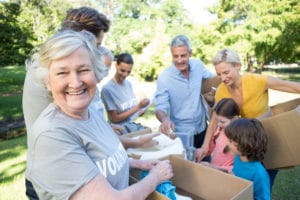 The objects that you have in your home are a representation of the life that you have lived. This absolutely applies to your aging parent, who likely has objects that they have owned for decades. This does not mean, however, that they should hold on to everything that they have. Downsizing is an important task for elderly adults who are either transitioning into a new home or who have accumulated too many belongings over time and need to start clearing them out.
This goes beyond just older people holding onto items. According to a study performed by the University of Kansas, approximately 30 percent of adults over the age of 70 throughout the United States exhibit hoarding behaviors in that they had not given away any items in the previous year. Nearly 60 percent of seniors between the ages of 50 and 59, and more than 60 percent of those ages 70 to 79, however, admit that they have too many possessions. This illustrates the emotional challenge of hoarding, which happens when it is too difficult for them to let go of what they own. This could develop into a dangerous situation with excess clutter, holding onto potentially hazardous items, or filling the home with items os that it cannot be properly cleaned.
Some indications that your aging parent needs to downsize include:
• Rooms in the home that are no longer usable for their intended function because they are filled with items,
• Excessive clutter that builds up on surfaces, such as newspapers, magazines, and junk mail,
• Items that are in the home that have not been used in an extended period,
• Items that are in the home that are no longer usable,
• Having too many items to move into their new home comfortably or safely.
If your aging parent is dealing with hoarding behaviors or is transitioning into a new home and you know that they need to downsize, starting home care services for them might be one of the best decisions that you can make. An in-home senior care services provider can be a tremendous source of support and encouragement for this elderly adult so that they can better cope with the changes that are coming during this time in their life. This can also be extremely helpful when you are going through the actual process of downsizing their belongings or moving. The in-home senior care services provider can be with your elderly loved one to keep them engaged, talk them through these difficult situations, and even plan activities and outings to keep them out of the way so that they can experience less stress and anxiety during this process. When it comes to recognizing if your elderly loved one might be coping with hoarding behaviors, this care provider can monitor how your parent interacts with objects and if they might seem reluctant or hesitant to let go of items so that they can alert you to any possible areas of concern.
Source:http://psychsocgerontology.oxfordjournals.org/content/early/2014/02/10/geronb.gbu003.abstract
If you or an aging loved one are considering Home Care Services in Hollywood FL to provide companionship, compassion and motivation, please contact the caring staff at Responsive Home Care. Call today 954-486-6440.
https://www.responsive-homecare.com/wp-content/uploads/2016/11/bigstock-Happy-volunteer-family-separat-84980153.jpg
200
300
Debbie Savage, RN, BSN, President
https://www.responsive-homecare.com/wp-content/uploads/2021/06/responsive-logo.png
Debbie Savage, RN, BSN, President
2016-11-01 14:49:55
2019-03-20 10:16:00
Does Your Parent Need to Downsize Their Belongings?