What to do When an Elderly Loved One has Kidney Failure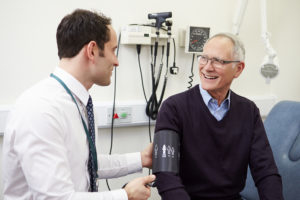 Our kidneys are an important component of our bodies for a number of reasons, including the fact that they cleanse the body of harmful toxins by releasing them through our urine. When the kidneys are unable to perform their regular tasks, it could lead to severe consequences, including death.
Knowing as much about this condition is the first step in helping your elderly parent get the help they need. If they live alone, you may want to consider hiring an elderly care provider to watch over them each day and contact their doctor immediately if they fear there is a problem with their kidneys.
Here is some information to help you and their caregiver navigate through how to care for someone with this condition.
Risk Factors
The first thing that can be done to understand kidney failure is to understand where the illness can come from. Here are several of the most common risk factors.
History of diabetes
Family history of kidney problems
Coping with high blood pressure
Overusing medications, such as aspirin, ibuprofen, and acetaminophen
The Difference Between the Two Types of Kidney Failure
Acute kidney failure occurs when there is a sudden change to the function of the kidney. Some of the possible reasons behind getting this type of kidney failure are:
Bladder problems
Kidney stones or calcified materials, causing a blockage to the kidneys
Kidney infections
Damage to the blood vessels that lead to the kidneys
Protein or blood in the urine
Swelling of the extremities
Abnormal Blood Urea Nitrogen (BUN) test
Increased urge to urinate, which may also be extremely painful
Chronic kidney failure may be present if the elder experiences any of the following symptoms.
Frequent fatigue
Shortness of breath
Excessive need to urinate at night, yet secretes very little urine
Rashes on the skin as a result of impurities in the body that are building up with no way to escape
Increased thirst
Trouble managing their diabetes or high blood pressure
Acute kidney failure can usually heal on its own, but severe chronic kidney failure may result in the need for a kidney transplant.
Prevention
If you are concerned that your elderly loved one may develop this illness, try the following tips to prevent kidney failure from happening to them.
Eat the right foods. There are certain foods that are more difficult for the kidneys to manage. Talk to a dietician or the elder's doctor to determine what foods will help your loved one with their condition.
Exercise. Regular exercise will prevent a wide range of chronic illnesses from occurring. In turn, the elder will be at a lower risk of kidney failure.
Manage other chronic health problems. By properly treating and taking care of current health problems, like diabetes and high blood pressure, your loved one may be able to prevent issues with their kidneys.
Source: http://www.eldercarelink.com/Other-Resources/Health/kidney-failure-in-the-elderly.htm
If you or an aging loved one are considering home care in Pembroke Pines to provide companionship, compassion and motivation, please contact the caring staff at Responsive Home Care. Call today 954-486-6440.
https://www.responsive-homecare.com/wp-content/uploads/2017/02/bigstock-Doctor-Taking-Senior-Patient-s-92602691.jpg
200
300
Debbie Savage, RN, BSN, President
https://www.responsive-homecare.com/wp-content/uploads/2021/06/responsive-logo.png
Debbie Savage, RN, BSN, President
2017-02-07 14:08:01
2019-09-04 04:57:53
What to do When an Elderly Loved One has Kidney Failure