Home Care Tips For Florida Families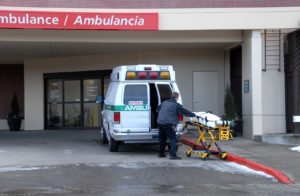 For many senior adults, visits to the emergency room are more frequent as they get older. Changes in their physical and cognitive functioning, increased fall risk, higher instance of physical health concerns, and lower immune systems can all contribute to older adults visiting the emergency room more frequently than they might have when they were younger.
This frequency, however, does not make these situations any less serious. Whether your senior loved one visits the emergency room less than once a year or several times a year, as their family caregiver it is essential that you are there for them to help ensure that they get the most benefit out of the care that they receive, and that they continue to receive this benefit even after they are discharged.
One of the most important elements of this is asking the right questions before your parent leaves the emergency room. By asking these questions you can get the information that you need to structure your care approach and keep your parent on the right track toward recovery and management of their health and well-being.
Some questions that you should ask before your senior parent leaves the emergency room include:
• What is their diagnosis?
• What types of treatments did they receive while they were in the emergency room?
• What is the prognosis for this particular issue?
• What types of prescriptions did they receive?
• What are the instructions for these prescriptions?
• What are the potential side effects for these prescriptions and how can they handle them effectively?
• What type of care will they need after returning home?
• What changes do they need to make to their lifestyle because of this issue?
• What should you look for to determine if they need to return to the emergency room?
• When and with whom should they follow up after discharge?
Considering bringing a notebook with you and taking notes about the answers to these questions. This will allow you to reference these notes later if you have any questions or unsure of what needs to be done.
If your senior loved one has recently spent time in the emergency room, now may be the ideal time for you to consider starting senior home care for them. Regardless of the issue that brought them to the hospital, the time after they return home can be integral in protecting the future of their health and well-being. This is the time when hospital readmission becomes an issue and your loved one will also need to focus on recovering from the illness, injury, or other concern that had them seeking emergency medical attention.
The highly personalized services of an in-home senior care provider can ensure that they get the care, support, assistance, and other services that they need to manage their individual needs and challenges, prevent readmission, and maintain the quality of life and lifestyle that is right for them.
If your parent is at risk of needing additional care or the medical team has given you specific instructions as to what to look for in ensuring that they are recovering properly, this care provider can be especially beneficial. Being with your parent ensures that they are able to detect changes or issues that might be concerning so that they can alert you and your parent can get the continued care that they need.
If you or an aging loved one are considering senior care in Hollywood, FL to provide companionship, compassion and motivation, please contact the caring staff at Responsive Home Care. Contact us today 954-486-6440.
https://www.responsive-homecare.com/wp-content/uploads/2017/01/bigstock-Ambulance-At-Hospital-2616353.jpg
200
307
Debbie Savage, RN, BSN, President
https://www.responsive-homecare.com/wp-content/uploads/2021/06/responsive-logo.png
Debbie Savage, RN, BSN, President
2017-01-24 12:45:29
2019-06-12 21:31:22
Questions to Ask Before Your Parent Leaves the Emergency Room